Lloyds Banking Group is to hand more than £3bn in dividends and surplus capital to shareholders and has awarded its chief executive a bumper £6.4m payout just nine months after returning to full private ownership following its taxpayer bailout in 2008.
The group, the largest bank in Britain with 27 million customers, posted a 24% jump in pretax profits to £5.3bn. In a bonanza for shareholders, Lloyds hiked its dividend by 20% and announced a buyback programme worth an extra £1bn.
The chief executive António Horta-Osório's pay, including bonuses, increased 11% to £6.4m in 2017 from £5.8 in 2016. Unions said it contrasted with an average pay increase for staff of just 2% in 2017.
In a scathing attack on Britain's banks on Tuesday the Labour leader, Jeremy Corbyn, promised "a fundamental rethink of whom finance should serve and how it should be regulated … We will take decisive action to make finance the servant of industry, not the masters of us all."
But in a surprise response, Horta-Osório said: "I have read what Jeremy Corbyn said. He is very focused on ensuring the banks are helping the real economy, and that is what Lloyds is also about."
He promised a new three-year £3bn investment in the bank and billions more in loans for startups and small businesses.
In an upbeat assessment of the British economy, Horta-Osório said that while the UK faces political and economic uncertainty "we see an economy that is resilient, employment growth to continue … and where exports are growing consistently ahead of imports for the first time in six years. We expect GDP growth in 2018 to be around the same levels as 2017."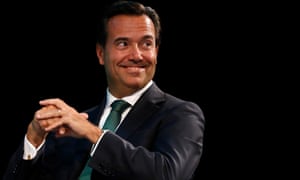 But he warned mortgage customers of pricing pressure that could see loan interest rates march upwards as the Bank of England's term funding schemeends this month. Under the TFS banks have borrowed £106bn from the Bank of England at rock-bottom interest rates, but that money must now be repaid.
Analysts are pencilling in the next rise in the Bank of England base rate for May, but Horta-Osório predicted that rates would rise only gently over the next few years, reaching just 1.25% by 2020.
Lloyds continues to be dogged by payouts for payment protection insurance mis-selling. It took a £1.65bn charge for PPI last year, up from £1bn in 2016. The lender had to pay £600m in the fourth quarter after weekly complaints rose from 9,000 to 11,000. Lloyds' bill for the PPI mis-selling scandal now stands at £18.7bn.
Undeterred by past mis-selling scandals, the bank sees pensions and insurance as its major growth area for future years. It has set itself the target of obtaining a million new pension customers by 2020.
The branch network will continue to slim down – Lloyds announced 49 closures in November – but Horta-Osório declined to give a figure on further cuts despite being repeatedly pressed. He pledged the bank would maintain its share of all bank branches in the UK at about 21% of the total. 
The surge in profits and payouts saw Lloyds shares climb nearly 3% higher despite higher PPI provisions than expected.
Laith Khalaf, senior analyst at Hargreaves Lansdown, said the Bank of England's decision in November to raise interest rates for the first time in more than a decade was welcome news for Lloyds.
"There's a lot to like in Lloyds' numbers, with profits rising, costs under control and prodigious amounts of cash being thrown off to shareholders.
"The Bank of England can take its fair share of credit for Lloyds' profits, as rising interest rates have delivered a boost to the top line. For the banking industry the prospect of rising rates after a decade of loose monetary policy is a bit like finally coming across an oasis in the middle of the desert."